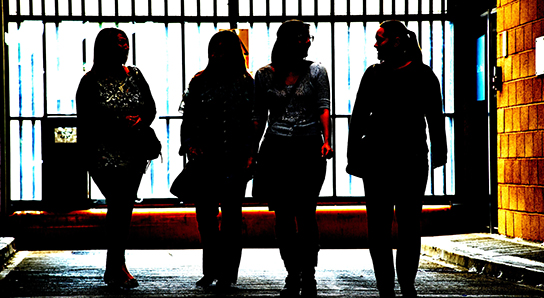 Maintaining contact with family members or close friends is an important part of the rehabilitation process and helps to support our residents during their sentence. Our large, open-plan visits halls provide a relaxed atmosphere for both residents and their visitors. With refreshments available to purchase and play areas for younger children, we want to make your visiting experience as comfortable and enjoyable as possible.
We understand that visiting a prison can be quite daunting, especially if it is your first visit, so we try to make your experience as positive as possible. We want you to enjoy your visit so we operate a zero tolerance for violence and aggressive behaviour to help us maintain a calm, friendly environment.
During your visit you will be able to purchase refreshments from our Friends of Bronzefield kiosk.
Children under the age of 18 must be accompanied by an adult.
Contact visits from 27 July 2021
We are delighted to announce that a hug at the beginning and end of the visit is allowed, if both resident and visitor agree to a lateral flow test (LFT). Children under 11 years of aged are still permitted contact and do not have to test.
In order to enable this to happen, the following must take place:
Contact visits are only permitted if both resident and the visitor agree to an LFT

Residents test 24 hours prior to the visit taking place. The test will be carried out by members of staff

Visitors provide proof of a negative LFT that was completed within 24 hrs before the visit. This proof must be brought to the visit hall in the form of an email or text message confirming a negative result (a test strip is not accepted)

Social distancing must be maintained, and face masks must still be worn
Non-contact visits will continue to take place.
Prohibited items
There are certain items that are not allowed in a prison environment. Please take the time to read and familiarise yourself with the list. View the prohibited items list.
We provide lockers for you to store personal belongings such as wallets, mobile phones and tobacco.
Smoke-free site
As of 11 September 2017 HMP & YOI Bronzefield became a smoke free site. We therefore do not allow any tobacco, lighters or other smoking paraphernalia in the visits hall.
Visiting times and frequency
Details about visiting times allowed at HMP & YOI Bronzefield.
COVID-19 update: please view the prison homepage for the latest information on available visits.
The visitors centre opens half an hour before visiting time begins to allow you time to arrive, book in and secure your belongings.
The frequency and length of visits available are dependent upon the latest COVID-19 measures. Please check our homepage for the latest information.
What to expect
Guidelines of what to expect when visiting HMP & YOI Bronzefield prison.
When visiting, make sure you bring photo ID with you and proof of your address, such as a utility bill (gas, electricity, water, council tax etc.) or a bank or building society statement. These must be less than three months old.
Accepted forms of photo ID are:
Driving licence (photo card)
Valid passport
Citizenship card
Bus pass
Blue Badge with photo
If you do not have photo ID you should bring either your birth certificate plus two utility bills or bank/building society statements. Or you can bring three utility bills/bank or building society statements – each must be from a different organisation.
Car parking
Visitors' parking is provided free of charge. If the visitors' car park is full, please use the overflow car park at the top of the drive. Please do not park along the drive as this can be a safety risk for cars and pedestrians.
Check-in to our visitors centre
When you arrive you will need to check-in to our visitors centre which is the small building on the right before you reach the prison. You will be welcomed by a member of our team who will check your name against the list of visitors and check your ID. Here you can wait until your visit time.
The Centre opens 45 minutes prior to the start of visits – please arrive at least 30 minutes prior to the start of your visit.
There's a soft play area for little ones and a small kiosk to get a drink. It's best to use the toilet facilities here before you go into the visits hall.
You will be directed to the main prison building where our visits hall is based. Here you can hand in any property that you have brought with you for the person you are visiting. You may bring up to £50 cash to be put into the account of the resident you are visiting – this can be done before or after your visit, if depositing the money after the visit, please ensure you leave the cash in your locker with your personal belongings. You will need to ensure that you have the residents full name and prison number.
Lockers
You can use a locker to leave your personal belongings such as, such as keys, mobile phones, cigarettes, tobacco, lighters etc.
Within the Visits Hall there is a tea bar operated by the Friends of Bronzefield, there are also toilet, baby changing and wash facilities available. You may bring a maximum of £10 in coins only to purchase refreshments and snacks from the tea bar within the visits hall.
Security
When it is time to go through for your visit, you will pass through an airport-style security.
Any bags will be passed through a scanner and you will walk through a metal detector.
You'll also need to agree to a 'level A' rub down search. Official visitors are required to agree to a 'level B' rub down search.
If you refuse to be searched, you will not be allowed to enter the prison. Please be advised that we have a drug detecting machine which, if proven positive, will determine whether your visit continues and if it continues under closed conditions.
Once you've passed through security, you'll then go through our airlock door system before entering the visits hall.
Types of visit
Details about the social (friends and family), legal and Official Prison Visitors (OPVs) allowed at HMP & YOI Bronzefield.
Social visits: the first visit for a new reception will be booked by the visits staff shortly after a woman's arrival at HMP & YOI Bronzefield. Following that, residents can book visits themselves via the Pod system.
Legal visits: requests need to be sent on headed paper in the first instance. Please provide as much notice as possible to allow us to accommodate you. A confirmation will be emailed to you as soon as possible but please allow 24-48 hours for a response. Legal Visits are available to book Monday to Friday (excluding Bank Holidays) at 9:00am and 11:00am and can last up to one hour. To book a legal visit please email Bronzefield.LegalVisits@sodexogov.co.uk
Video Link: to book a Video Link please email BF.Videolink@sodexogov.co.uk or call 01784 425 769.
Official Prison Visitors (OPVs): OPVs are volunteers who come into the prison to visit residents who would otherwise not have any visitors. They are members of the public with whom residents can talk in confidence, establishing a degree of trust and mutual understanding. To find out more about volunteering please contact Carol.Miller@sodexogov.co.uk
please note: these departments will not be able to give out any prisoner information
How we collect and use your data
COLLECTION OF DATA
In order to facilitate your visit to one of our prisons and to ensure that we deliver appropriate levels of security and safety and prevent crime, for identification purposes we shall collect your name, date of birth, address, a biometric template of your fingerprint and a photograph. A series of reference points from a finger print are collected, allowing a unique identification pattern. We do not collect or hold actual fingerprints.
Our prisons operate CCTV and staff may wear Body Worn Video Recording Equipment. We do not collect biometric readings or photographs of children under 16, however with the use of CCTV, images may routinely be captured.
DATA SHARING
We will only share your information with a third party where there is a legal obligation to do so.
RIGHTS OF ACCESS, CORRECTION, ERASURE AND RESTRICTION
You have legal rights in connection with personal information. Under certain circumstances, by law you have the right to:
Request access to your personal information (commonly known as a "data subject access request"). This enables you to receive a copy of the personal information we hold about you and to check that we are lawfully processing it.
Request correction of the personal information that we hold about you. This enables you to have any incomplete or inaccurate information we hold about you corrected.
Request erasure of your personal information. This enables you to ask us to delete or remove personal information where there is no good reason for us continuing to process it. You also have the right to ask us to delete or remove your personal information where you have exercised your right to object to processing.
Object to processing of your personal information by us or on our behalf in certain situations.
Request the restriction of processing of your personal information. This enables you to ask us to suspend the processing of personal information about you, for example if you want us to establish its accuracy or the reason for processing it.
DATA RETENTION
We keep personal data in accordance with our clients' and Sodexo's retention procedures. These retention periods depend on the nature of the information (e.g. we apply different retention periods to different type of information such as CCTV and your visitor record), and may be subject to change.
If you have any questions or concerns about how long we retain your personal data, please contact the Data Protection Officer using the details below.
FURTHER ADVICE / GUIDANCE
To exercise your rights, you can contact us by writing to us at the following address: dataprotection.ukandie@sodexo.com or email the Global Data Protection Office at the following email address: dpo.group@sodexo.com stating your surname, first name and the reason for your request. We will most likely ask you for additional information in order to identify you and to enable us to deal with your request
You also have the right to contact the Information Commissioner's Office and file a complaint. (https://ico.org.uk/concerns/)