HITT clinic success at HMP Bronzefield
February 26, 2021
HMP & YOI Bronzefield recently implemented a unique and innovative approach to screening for Hepatitis C with a mini High Intensity Test and Treat (HITT) clinic for residents.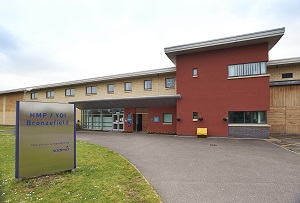 The Royal Surrey County Hospital kindly provided 100 oral swab tests which meant the clinic could take place without the use of invasive finger prick tests previously used.
Bronzefield Nurse Team Leader Harriet stated, "the UK has the ambitious target to eliminate Hepatitis C by 2025 and I like to be able to make a positive difference in our resident's lives".
The new, non-invasive testing process was well received by the residents. Julia, the Female Prison Peer Coordinator from the Hepatitis C Trust provided harm minimisation information to the residents whilst the tests were being completed. Thankfully, the HITT confirmed that currently no residents on Houseblock four with cases of hepatitis C.
"HMP Bronzefield are flying the flag of how to keep hepatitis C on the agenda through tough times. It was a pleasure to be part of the testing event. We had such great engagement from all the women, and I was able to talk to them about the importance of testing, new treatment and how to keep themselves safe", stated Julia.
HMP Bronzefield's Head of Healthcare, Dev also added, "we have been even more focussed during the pandemic to continue to ensure that we screen and treat those with Hepatitis C. We have worked closely with the Royal Surrey Hospital, PHE, NHSE and Hep C trust in planning our HITT programme and we would not let the pandemic affect our aspirations and vision. It's been amazing to work with a group of really passionate clinicians".
The mini HITT clinic has since been recognised as the gold standard for prisons by our contacts at the Hepatitis C Trust and The Royal Surrey County Hospital, resulting in the healthcare team at Bronzefield working on progressing with further mini HITT clinics, alongside planning for a larger HITT programme in April 2021.
If you are interested in joining the team at HMP Bronzefield, we offer a range of exciting and rewarding jobs https://www.sodexojobs.co.uk/.